Horror Hound Weekend Indianapolis
September 7, 2012

-

September 9, 2012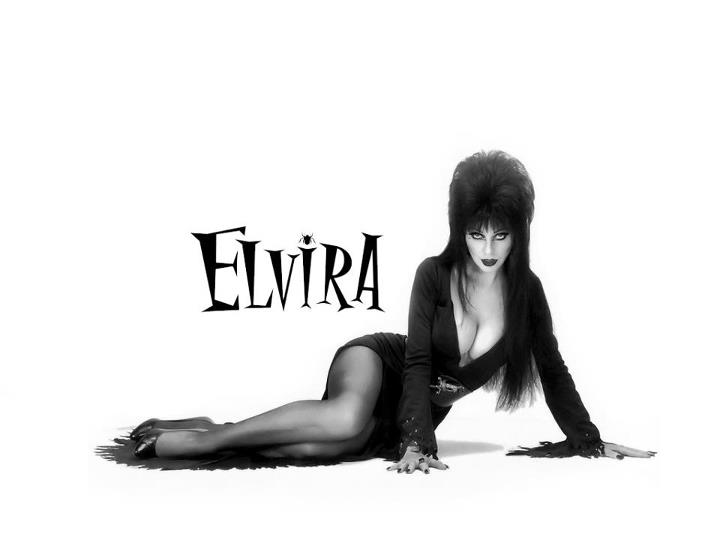 Photo Ops at Horror Hound Weekend Indianapolis:
Elvira's final midwest appearance in costume!
Online ticket pre-sales have now ended
But do not worry! You can stop by the photo op area (shown on the map below) any time before your photo op and pre-pay for your photo op with cash or credit card.
Horror Hound Indianapolis Photo Op Schedule


Click the image below for the printable info sheet and schedule.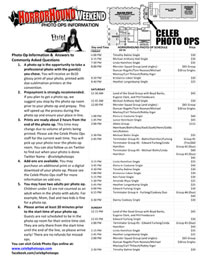 Please keep in mind this schedule is subject to change. Make sure to check it often, especially right before the show.
Horror Hound Event Map
General Photo Op Information:
What is a photo op?
Photo Ops are professional photos taken with your favorite celebrities with professional quality lighting and camera equipment.
What do I get with my photo op?
You will receive your print shortly after your photo is taken printed on professional (dye sublimation) photo printers on 8×10 glossy paper.
How long do I have to wait for my print?
Typically your print will be ready within two hours from that particular photo op. You can feel free to go back into the convention and then simply come back out to get your print. We will also announce on the @CelebPhotoOps twitter when new photo op prints become available.
Sounds cool, are they expensive?
No, most are around the cost of an autograph.
Can I get my print autographed?
Yes, sharpies stick very nicely to our prints. The price of autographs are not included in the photo op price.
I am sold! Where do I sign up?
Once you are at the convention, just come on over to the photo room. We will get you all set up and ready for your photo! Prepayment is strongly recommended to get you in and out of your photo op as quickly as possible.
Other questions you may have….
Should I get there early for my photo op?
We recommend you get there about 25 minutes early. The main thing is DO NOT BE LATE! We get the lines through very fast and when the line is done, the celebrity will often leave. Get there on time at the absolute latest. We are sorry but there are no refunds for missed photo ops.
Do you clean up or alter my photo for me?
We are sorry but we do not do any cosmetic alterations. Try and do any make-up application or hair before coming to the photo op.
Will the celebrities still do photos at the table with my own camera?
As far as we know, yes but as with any convention, it is entirely up to the celebrity and their manager.
How many people can I have in my photo?
Up to two adults per photo. Any more than two adults and there will be an additional fee. Families may have up to two adults and up to two children (under 12).
Can I get duplicate prints if I want more than one?
Yes, it is an additional fee of $10 for each duplicate print. Duplicate prints will be printed on-site and are available at the convention.
Can I get a digital copy of my photo?
Yes, it is an additional fee of $10 for digital copies. Digital copies will be available 7 days after the convention ends at our website www.celebphotoops.com. You can use the digital copy for posting on your facebook, twitter avatar, Christmas card, desktop wallpaper, etc. It is a 300dpi jpeg.
Should I bring anything with me?
We suggest you bring as little as possible to the photo op, it helps the line immensely if people do not show up with armloads of items. Please no props unless you you cleared with us first. Make sure however, you bring whatever receipt you were given when you signed up for your photo op.
Should I remove my glasses?
It is best if you do. The lighting we use is very bright and often causes glare on glasses.
Do you look for blinks in the photos in case I do blink?
We do our best to try and look for bad shots and or blinks and then retake the photo. Remember, it is a photo you will keep for a lifetime, make sure and try to follow the photographers instructions.
Can I wear a costume?
Absolutely!