Wizard World Des Moines Comic Con
May 13, 2016 @ 3:00 am

-

May 15, 2016 @ 4:00 pm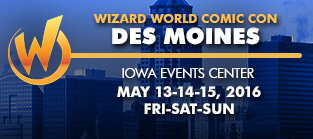 Wizard World Events Home Page: http://www.wizardworld.com/
Wizard World Madison Home Page: http://wizardworld.com/comiccon/des-moines
Wizard Madison Op Page (Schedule Coming Soon): http://wizardworld.com/comiccon/des-moines/desmoinesphotoops.html
WIZARD WORLD COMIC CON PHOTO OP INFORMATION
What is a photo op?
A photo op is a professional photo of you with the celebrity guest you chose. You will get a photo taken under ideal lighting conditions and shot with professional camera equipment. You will receive an 8×10" print of your photo printed on professional dye-sublimation photo printers.
TICKETS PURCHASED ON-LINE
IF YOU PURCHASED YOUR PHOTO OP TICKET ON-LINE, YOU MUST REDEEM IT AT PHOTO OP SALES PRIOR TO ENTERING THE PHOTO OP LINE AREA.
PHOTO OP SCHEDULE
PHOTO OP SCHEDULES ARE AVAILABLE AT PHOTO OP SALES. PLEASE BE SURE TO CHECK THE MOST RECENT VERSION FOR LAST MINUTE CHANGES. TWO FANS PER PHOTO TWO ADULTS PER PHOTO. FAMILIES MAY HAVE TWO ADULT PARENTS AND TWO CHILDREN UNDER 12 INCLUDED.
PHOTO OP LINES
LINES FOR PHOTO OPS ARE CREATED APPROXIMATELY 30 MINUTES PRIOR TO THE START TIME OF THE PHOTO OP. BOARDS NEAR THE LINE ENTRANCE WILL LIST THE CURRENT PHOTO OP LINE ASSIGNMENTS OR TIMES FOR UPCOMING LINES. UNOFFICIAL OR FAN-CREATED LINES WILL NOT BE HONORED WHEN OFFICIAL LINES ARE CREATED. IF YOUR LINE IS NOT CURRENTLY LISTED ON THE LINE ASSIGNMENT BOARDS, PLEASE ENJOY THE REST OF THE SHOW UNTIL IT IS TIME TO START THE LINE FOR YOUR PHOTO OP. OFTEN TIMES, THE PHOTO OP LINE QUEUE AREA WILL FILL UP ENTIRELY, PLEASE STAY WITHIN YOUR ASSIGNED ROW WHILE IN THE PHOTO OP LINES. IF YOU LEAVE THE LINES FOR ANY REASON, WE CANNOT GUARANTEE YOUR PLACE BACK IN LINE. ONLY TICKETED ATTENDEES OR THOSE IN THE PHOTO WITH THE TICKETED ATTENDEES ARE ALLOWED INTO THE LINE QUEUE. IF YOU HAVE SPECIAL NEEDS OR ARE CARING FOR A SPECIAL NEEDS FAN WHO IS GETTING A PHOTO OP, PLEASE SPEAK TO ONE OF OUR LINE STAFF.
PHOTO OP ROOM
UPON ENTERING THE PHOTO OP ROOM, PLEASE HAVE YOUR PHOTO OP CARD OUT AND READY. NO PERSONAL PHOTO OR VIDEO RECORDING DEVICES ARE ALLOWED IN THE PHOTO OP ROOM. ABSOLUTELY NO AUTOGRAPHS. ONCE INSIDE THERE IS A DESIGNATED TABLE TO PLACE YOUR ITEMS, PLEASE HAVE ALL BACKPACKS, PURSES, ETC OFF AND READY PRIOR TO ENTERING THE PHOTO OP ROOM. DUE TO SAFETY CONCERNS, WE ASK THAT YOU DO NOT BRING STROLLERS INTO THE PHOTO OP ROOM. PLEASE BE RESPECTFUL OF THE CELEBRITY GUESTS. KEEP HANDS ABOVE THE WAIST, ABSOLUTELY NO KISSING, AND LISTEN FOR SPECIAL RESTRICTIONS FOR PARTICULAR GUESTS.
GLASSES OFTEN GLARE OR MAKE IT NEARLY IMPOSSIBLE TO SEE IF YOU BLINKED, PLEASE REMOVE THEM IF POSSIBLE.
AFTER YOUR PHOTO OP
SIMPLY FOLLOW THE YELLOW STRIPE ON THE FLOOR TO THE PRINT PICKUP AREA AND YOUR PHOTO WILL BE READY IN ABOUT A MINUTE OR LESS. BE SURE TO REDEEM YOUR ADD-ON CARDS (DIGITAL FILE DOWNLOAD, ADDITIONAL PRINT, OR COMBO PACK) AT PHOTO OP SALES AFTER PICKING UP YOUR PRINT.