2022 THE FANDEMIC DEAD
March 18 @ 10:00 am

-

March 20 @ 5:00 pm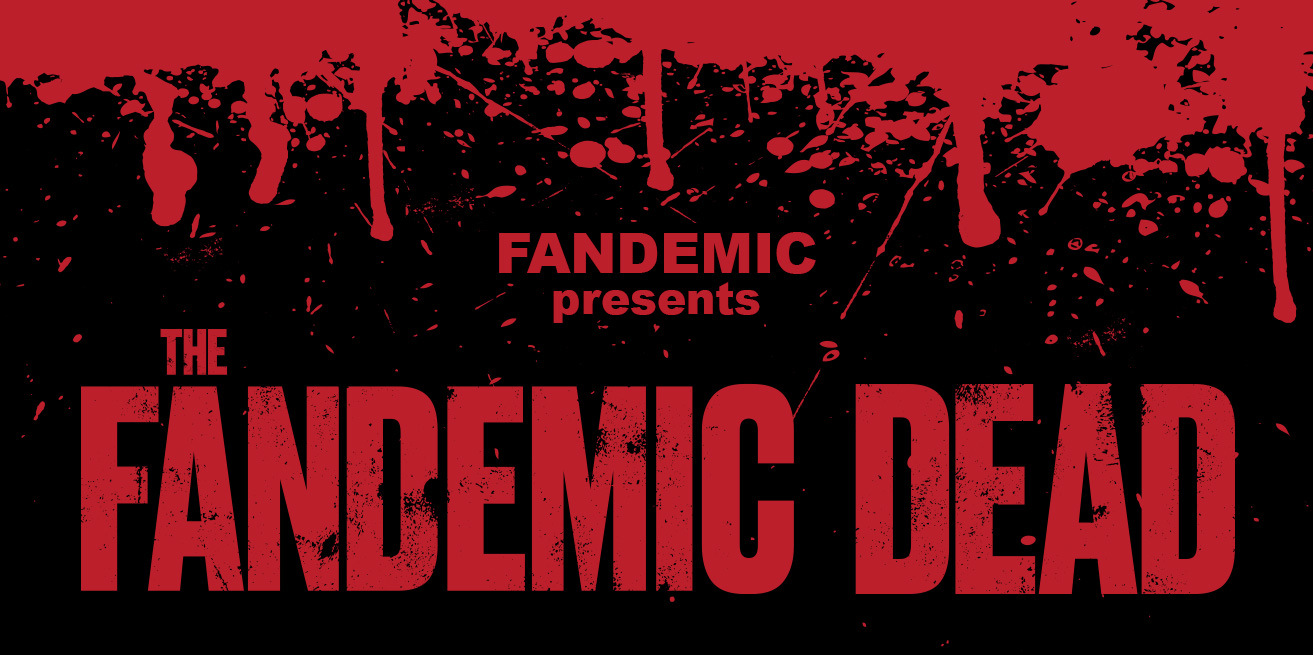 CLICK HERE FOR PHOTO OP SCHEDULE

Please bear in mind, the photo op schedule will not be released until approximately 2-3 weeks prior to the event.

Be sure to revisit the photo op schedule often to check for changes.
IMPORTANT COVID 19 INFORMATION


We understand your concerns and questions! Given how quickly information and safety requirements on Covid 19 are changing, we don't have a definitive answer at this point. We will follow the requirements and best practices of the CDC, the state and local authorities, celebrity guests and or their agents, and the venue.  
PHOTO OP INFORMATION


Please be sure to read the following information. It is extremely important that you are familiar with it.
The information contained within this page will help you make the most of your photo op experience. Please be sure to read the entire page, especially if you are unfamiliar with the photo op process or if you have not had photo ops with us in the past.
What a photo op is and what it isn't.
A photo op is essentially a photo taken with you and the celebrity guest or guests you have purchased a ticket for. The photo is taken under ideal lighting conditions and with a top of the line DSLR camera. We then print a high quality 8×10″ of the photo on professional dye-sublimation photo printers. Your photo is ready in around a minute after the photo has been taken with our "print it in a minute" technology.
To avoid confusion, a photo op is not a meet and greet. The process is very quick without time to converse with the guest or guests. It is a photo opportunity in the literal sense of the word. If you really would like a little time to converse with a celebrity guest, we would strongly suggest you opt for a autograph as typically the autograph is a somewhat slower moving process.
| | |
| --- | --- |
| | Please understand that a photo op is not a meet and greet, it is a rapidly moving process. It is important you listen for prompts from the line attendants and the photographer to ensure you get the best photo possible. |
Photo Op Tickets
Photo op tickets are added as guests and pricing is confirmed with agencies and event promoters. This means that we will add tickets throughout the online sales process. Tickets are typically added as guests are announced by Fandemic.  Ticket prices are subject to change at any time, however if you have already purchased a photo op ticket for a specific guest's solo photo and their price is increased, your ticket is still valid. In the case of guests being added to a cast or grouping and the price changing on the cast or grouping, the original listed cast or grouping may be cancelled in favor of the newly listed cast or grouping. In this case, you will have the opportunity to upgrade your cast or grouping. Please see the section on swapping and upgrades for more information.
| | |
| --- | --- |
| | When tickets show as sold out online upon sales close, it means they will also be sold out at the event. We urge you to not wait in the sales line for tickets that are sold out. We do not release more tickets at the event, so in other words, sold out means sold out. |
Photo Op Tickets Purchased Online
You may print the QR code for the tickets or have them on your phone. If you have them on your phone, please be sure you have them up and ready when you get to the front of the line.  Make sure you have the full QR code up and ready, and not the icon on your confirmation page.
| | |
| --- | --- |
| | Remember, if you have purchased a ticket online, you have a confirmed ticket.  |
The Photo Op Schedule
The photo op schedule is posted approximately 2-3 weeks prior to the event and will be linked toward the top of this page. In most cases, the schedule is not posted any earlier than that because of continuing guest adds. If we posted a schedule early, it means it would be quite invalid by the time the event approaches.
| | |
| --- | --- |
| | Be sure to check and recheck the photo op schedule for any changes. You will know the schedule has changes if the revision number located at the top right (I.E. 1.3) of the schedule has changed. |
Clashing Photo Op Times
Typically as a general rule, you will need to allow 15 minutes between photo ops. If you have two photo ops at the same time, we do suggest moving one of those photo ops to another day using the swap feature on GrowTix (see section on Upgrades and Swapping). If you're unable to swap or there are no other times that fit in your schedule, we would suggest a refund on one ticket (see the Refund Policy below).
Things to keep in mind about clashing times. If your clashing times are both between high volume guests such as Norman Reedus and Jeffrey Dean Morgan, you have nothing to worry about. You can simply proceed as schedule to your first scheduled op, then onto the next. If your clashing times are between a high volume guest and a low volume guest, we suggest proceeding to the low volume guest and then onto the high volume guest. If you have questions about ops you think may be clashing (within 15 minutes of one another), you can feel free to contact us prior to the event.
How many fans can be in one photo with one ticket?
For each ticket purchased you may have two adults and up to two children 16 & under the photo. 
| | |
| --- | --- |
| | Group designations do not mean you will have a group of other fans in your photo, it is simply an indicator of the scheduled time for your photo op. |
Day Specific tickets and Group designations (A Group, B Group, Etc).
Tickets are sold on a day specific and group specific basis. Your tickets must be used on the days and for the groups designated in the ticket title. Group designations (I.E> Norman Reedus Saturday A Group) means this is usable during Norman's scheduled Group A photo op time on the day you chose the ticket for. These times will be referenced on the photo op schedule. Please try and be aware of the group you have chosen and only come at the time designated for your photo op group (if you are Platinum or Gold please see the section on Platinum and Gold above). If you have a group C photo op ticket, do not show up for the Group A time, it will only slow the process, increasing wait times for everyone. If you have a C group and are trying to queue with the A group ticket holders, you will be removed from the queue. We also cannot switch you into another group if that is sold out.

Photo Op Queue
The queue for a specific photo op will open 30 minutes prior to the start time of the photo op. We ask that you DO NOT arrive any earlier than 30 minutes prior to the start time of your photo op. We have designed the groups to ensure you have the least possible wait time for your photo op and if you arrive before the 30 minute mark, it is simply adding to your wait time. You are not gaining anything by standing at the queue entrance for an hour. This causes congestion and confusion at the queue entrance, which leads to other fans to missing their photo ops, an inability for our staff to queue fans for currently open queues, and frustration for all involved. There simply is no need to arrive prior to the 30 minute mark and you will be asked to remove yourself from the area if you arrive too early. I understand this may sound harsh but we cannot stress enough the problems that arise due to fans arriving too early for a queue.
We have a television located at the entrance to the queue. On this television you will find queue open times and queue lines that are open to currently queueing photo ops. The times displayed on the television are 30 minutes prior to the photo op start time, so what this means is those are the times you can arrive back to queue, no sooner. If there is a line number shown on the television, it means the queue is open for that photo op. Simply proceed to the displayed line number within the queue area (numbers are located on the floor) if you have a redeemed ticket for that photo op. If a time is shown, go enjoy the event and come back at that time.
Often times the photo op queue area will fill up entirely, please stay within your assigned line space. If you leave the lines for any reason, we cannot guarantee your place back in line. Only ticketed attendees or those in the photo with them are allowed in the queue area. Parents of underage children may wait in line with them as well. If you have special needs or are caring for a special needs fan, please speak with our line staff before entering the queue area.
Any confirmed line jumping will result in your being moved to the end of the line for that photo op.

| | |
| --- | --- |
| | Please arrive for your photo op 5-30 minutes prior to the photo op scheduled time, however do not arrive more than 30 minutes prior. Arriving too early for your photo op causes problems and confusion! In most cases the optimal time to arrive at the queue is 5-10 minutes before photo op start time. Most importantly though, do not be late! |
Photo Op Booth
Prior to entering the photo op booth, please have your photo op ticket out and ready to be scanned. Have all backpacks, purses, jackets, lanyards or any items you do not want in the photo off and ready to place in the bins, on the tables outside the booth. As you enter the booth you will need to turn in your checked in card. You will then step up when you hear the "next" prompt to do so, you will also be given a "ready" before the photographer fires the shot. There will be a one second pause between the "ready" prompt and the camera firing. So be sure to be ready.
Keep in mind, the op booth is often loud. Many of the guests enjoy to have music playing during their op, therefor our staff will also have to be loud. Please do not think that the staff is yelling at you, they are simply speaking loudly for you to be sure and hear them and understand what is going on. We want to try and get the best photo possible of you, therefor we need to be sure you hear us and know what is going on.

Photo Op Booth Do's and Don'ts
Dos
Do be respectful of the celebrity guests.
Do be respectful of other fans in line.
Do keep hands above the waist.
Do listen for special instructions for each celebrity guest.
Do have your items ready to place on the table inside the booth.
Do have your ticket out and ready.
Don'ts
Don't ask for autographs in the photo op booth, you will be asked to remove yourself from the booth. Wait in the autograph line and pay for the autograph like all the other fans had to.
Don't take any personal photos on your phone, camera or any other photo device.
Don't take any video.
Don't attempt to kiss the guest or ask the guest to kiss you. In leu of the health and safety of the guests, this is strictly forbidden. You will be removed from the op booth without any photo or refund.
Don't expect the guest to spend any more time with you than they have given to other fans. Everyone is allotted the same amount of time next to the guest, please don't try to extend that time by ignoring staff, security or the next fan in line. If you have an accessibility pass, you will be given extra time to get to the guest if needed but again allotted the same amount of time next to the guest.
Retakes
Our photographers watch for blinks however, sometimes they are missed. If when you pick up your print and a blink is noticed, please let us know immediately to ensure the guest is still in the room and we will put you back in for a retake. Simply notify the staff or ambassador that handed you the photo.
Glasses more often than not will glare and/or make it very difficult for the photographer to see if you blinked. Please try to remove them if possible. If you cannot remove them please be sure to try and tilt the glasses down away from the lights. Retakes will not be given for glasses glare.
If you have a problem, other than glasses glare such as a colored blotch on your photo, a burry photo, a guest blink, or some other major issue please let us know immediately. Retakes may be issued on a per case basis.

After your photo op
Simply follow the brightly colored tape stripe on the floor at the photo op booth exit. It will lead you to the print pickup area where you print will be handed to you in about a minute. Once you have your print, you do not need to proceed to any more lines at the print pickup area unless you have a photo op Add-on such as a digital download or additional print. You will then take your add-on ticket and your printed photo to the add-on station attendant. The add-on station is typically located in the end of the print pickup area.

Add-ons
If you have an add-on (digital download, additional print or combo pack) simply take your add-on ticket and your printed photo to the add-on station attendant. The add-on station is typically located in the end of the print pickup area. You can also purchase add-ons at the add-on station. If you have a digital download, visit http://digital.celebphotoops.com/ and follow the simple instructions to download your image. Digital downloads are usually available in a few minutes, sometimes it can take a bit longer if the internet connection we are given is sub par.

Event Admission
Tickets Photo op tickets are NOT an admission ticket to the event. An event admission ticket must be purchased in conjunction with the photo op ticket.

Second Hand Tickets
If you purchased a photo op ticket second hand, such as on craigslist, facebook or any other avenue other than through us, we do not provide support or assistance for this ticket. QR codes can only be scanned once. If the person you purchased the ticket from also sold the ticket to others or it is a counterfeit ticket, you now have a useless piece of paper. We cannot offer you any assistance with this. Also, if a guest cancels, you will receive no refund, only the original purchaser will receive the refund. Over the past year we have turned away no fewer than 100 fans who spent their hard earned money on fake tickets, only to walk away empty handed. Don't let that happen to you. Do not purchase or trade tickets second hand!

REFUND INFORMATION AND POLICIES
Please see information on the Fandemic Dead website in regards to refunds/exchanges</strong