HorrorHound Weekend Cincinnati 2020
March 20 @ 10:00 am

-

March 22 @ 5:00 pm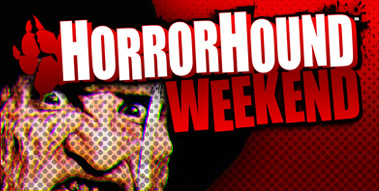 CLICK HERE TO BUY TICKETS FOR THE RESCHEDULED MAY DATES
The HorrorHound Weekend: Cincinnati 2020 event was set to be our 30th convention in 13 years – and HorrorHound Weekend has survived all this time because of the amazing relationship we have with our attendees and vendors – fellow horror fans who enjoy these events as much as we enjoy hosting them. Over the past few days, we have been following the COVID-19 (Coronavirus) outbreak news with eagle eyes, worried and concerned if or how it would impact our upcoming event. We have attempted to remain transparent with our attendees about the latest updates to our event, and have been working with the convention center to make sure things would be handled with safety and caution that would make celebrity guests, vendors, and attendees feel safe and welcome, despite the climate of worry and concern in the air. And the fan support has been amazing – we wanted to keep things afloat for YOU!
Unfortunately, with all intention to stay the course, a lot has changed since last night. The NBA has canceled their season. European flights have been halted, schools are shutting down, and Ohio Governor Mike DeWine has announced this afternoon a total ban on mass gatherings in a single room of over 100 people. While news of this possibility was floated in the last 24 hours, it just became a reality. And while we were encouraged to stay the course by our friends with the city of Cincinnati and convention center … this is now out of everyone's hands.
By order of the Governor, the Sharonville Convention Center is closed for the next four weeks. With that, and an extremely heavy heart, we must postpone our event – which was set to take place next week. However, by some miracle, the convention center was able to quickly secure a new date for us, to take place the weekend of May 22-24th, Memorial Day weekend. We reached out to our hotels and were given quick reassurances that they would work with us to make those dates work and to accommodate our attendees to their best ability in this time, pending any additional unforeseen changes to government policy. And it's a lot of work, so we have more calls to make and more details to confirm, including trying to maintain our guest list, canceling/transferring flights, and so much more. But we are encouraged by the quick responses and support by the city and local businesses to try and keep HorrorHound Weekend: Cincinnati a reality in 2020. And as always, if you are unable to attend this new date, we will honor your event tickets for any HHW event and tickets are completely transferable by person(s).
We are a small family-owned business are committed to keeping HorrorHound Weekend alive – we LOVE these events – and we feel tremendous sorrow and pain for the vendors, managers, filmmakers, supporters, and everyone else who relies on this event to pay their bills … including the local hotels, restaurants, car service companies, center event staff, and local businesses. … it's an unprecedented situation that is occurring in an effort for our state to minimize the impact of the spread of the virus over the next few weeks and we side with the decision based on the information we are being continued to receive – and we ask that everyone please be patient with us as we sort through the continued options at our disposal. Celeb Photo Ops will also be working through policy for both carrying over pre-purchased ops that can be transferred or upgraded, or canceled – questions or concerns regarding those can be addressed to info@celebphotoops.com. Visit the web sites of our amazing vendors. Support them, as some of them rely on conventions as their sole income – and the convention industry has been gutted over the past few weeks, leaving many uncertain of their future. We are all family in this world of horror, and hopefully we can help hold each other up and get through this difficult time.
Thank you for the support. Thanks for the thoughts. And thank you for your patience and understanding as we continue to work through the details, contracts, communication, and other obstacles related to this situation in the coming days and weeks. Look for additional posts and information as we are able to provide them.
Warmest regards,
The HorrorHound Weekend Team